Robert A. (Bob) Sajdak, a resident of Clarkston and a nationally respected leader in the trust industry, passed away on December 7, 2021. The announcement was made by his family.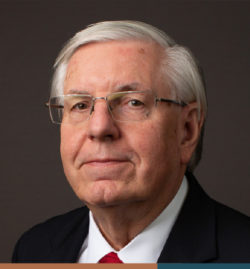 Bob came out of retirement to help found Credit Union Trust in 2018 and guided the organization through its successful launch before retiring this past spring.
"Bob was a remarkable person, a very good friend, and a visionary in the Trust industry whose talents were many," said Barry Babbitt, who has served on the Credit Union Trust Board of Directors since its founding and was Bob's colleague for more than 40 years. "His reputation was stellar and his legacy goes far beyond his business successes. The impact of his integrity, his kindness and his dedication to helping others will have a lasting effect on colleagues and friends, especially those of us in the industry who had the opportunity to work with him and share his vision."
"It was my honor to come into the organization at the time of Bob's retirement," said Jordan Summers, current Credit Union Trust President & CEO. "Bob did a terrific job of getting Credit Union Trust up and running and couldn't have been more dedicated to making sure the transition was a smooth one for employees, clients, and our credit union partners."
Prior to joining Credit Union Trust, Bob developed a consulting business serving banks and trust companies. Two of those clients, Union Bank of California and Reliance Trust Company of Delaware, hired him as an employee to implement the plans he developed. Bob gained his personal trust experience and industry leader role during his 25+ years at Comerica Bank / Manufacturers National Bank of Detroit. He served as Senior Vice President, Group Business Manager, Private Fiduciary Services at Comerica Bank before leaving the bank in 2012. Bob created The Strategic Alliance Program, providing broker-dealers nationwide with trust services. During his career, he was responsible for business planning, strategy, national business development, operations, and risk management.
Bob served on the Board of Directors of the Carls Foundation and was President of the Jean M.R. Smith Foundation and the Ramser-Morgan Foundation until his death. He had previously been Chairman of Madonna University and served on many boards and committees.
Bob was a licensed Michigan attorney and a graduate of the University of Detroit School of Law, following undergraduate studies at Saginaw Valley State University.