Choosing the right advisor is a critical first step in an investment strategy. It's important to feel confident in your advisor and trust in their ability to serve you. Our relationships with nationally-recognized investment managers provide our clients opportunities that are not available at other organizations. We believe that clarity and communication is vital in our relationship as your trusted advisor.  Whether we are assisting you with your investment plan or your estate plan, we are "Part of the Family" and will always have your best interests in mind.
Our decision to choose MainStreet Advisors as our primary investment advisor is one in which we have the utmost confidence. MainStreet Advisors is a Chicago-based investment advisory firm dedicated to serving trust and wealth management professionals by providing portfolio management and investment research, which better enables Credit Union Trust to serve as your trusted advisor.
At Credit Union Trust, we understand that the investment process starts with the client. We place our focus on client's needs and objectives. Our investment process is set forth to clearly outline the steps required to create a diversified portfolio. From understanding a client's risk tolerance to determining asset allocation and selection, our process provides the structure to support varying investment objectives and goals. The Credit Union Trust Investment Committee oversees the following four Subcommittees of our partnering investment advisors. 
Equity
Fixed Income
Asset Allocation
Alternative Assets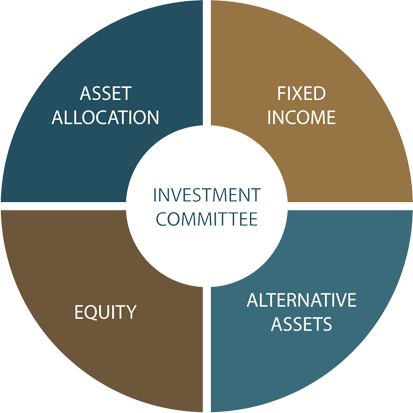 We employ a comprehensive approach that incorporates quantitative analysis, fundamental analysis, and risk control management to deliver portfolio solutions that best suit our client's needs and objectives.
Step 1: Identify client objective(s) and establish investment policy statement to document constraints and expectations.
Step 2: Set strategic and active allocation targets based on historical asset class characteristics and current economic and market outlook.
Step 3: Identify both active and passive investment vehicles to implement those asset allocation decisions.
Step 4: Portfolios are constructed and monitored. Current market conditions dictate the implementation process.
Credit Union Trust's investment process provides the foundation of disciplined portfolio management and diligent portfolio monitoring to work toward each client's investment objective.
Step 1:  We believe asset allocation is the starting point of any investment plan. Credit Union Trust takes great care in the analysis of the universe of asset classes to build an efficient portfolio.
Step 2: We adopt asset allocation targets based on current market opportunities and risk.
Step 3: We assess new investment vehicles, seeking to construct portfolios with the best investments for each client.
Step 4: Portfolio construction involves matching the appropriate investment vehicle with each asset class to build an efficient portfolio.
Step 5: Ongoing portfolio maintenance involves assessing the client's goals and objectives and taking care to ensure that, in our opinion, the current portfolio structure is appropriate in today's market.