Choosing the right advisor is a critical first step in an investment strategy. It's important to have confidence in your advisor and trust in their ability to serve you.
Credit Union Trust is a fiduciary, which means we are bound, both legally and ethically, to act in our clients' best interests. We take that responsibility very seriously. We carefully select nationally-recognized, independent investment managers, giving us the ability to approach a client's objectives in an unbiased manner. These investment manager relationships also allow us to provide clients a broader range of solutions.
Oversight Focused on your Best Interests
Beyond the selection and monitoring of valuable investment resources, Credit Union Trust offers an investment process that clearly outlines the steps required to create a diversified portfolio. It provides the structure to support varying investment objectives and goals while considering a client's risk tolerance.

To ensure appropriate oversight, a Trust & Investment Committee monitors and oversees the advisor selection and investment performance for all assets, including equity, fixed income, asset allocation, and alternative assets.

In addition, all client accounts are continually monitored and reviewed regularly.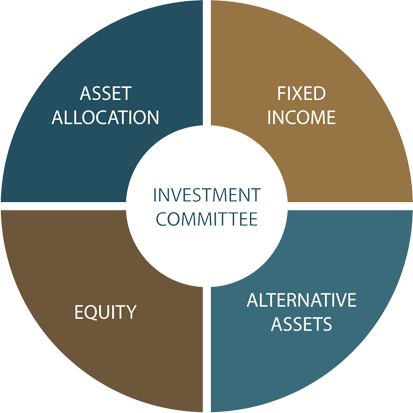 Clarity and Communication
We believe that clarity and communication are vital in our relationship as your trusted advisor. Whether we are assisting you with your investment plan or your estate plan, we are 'part of the family.'
All client/investment accounts undergo a thorough review at least yearly
Our Investment Team is located in Michigan and available to discuss investments and portfolios personally with Credit Union Trust clients
When appropriate, we encourage collective communication with the client's other trusted advisors, ensuring that the client's goals are clear, and encouraging actions in the client's best interests.


We employ a comprehensive approach that incorporates quantitative analysis, fundamental analysis, and risk control management. We do not offer any proprietary products—which allows us to deliver portfolio solutions most suitable for our client's needs and objectives.
Step 1: Identify client objective(s) and establish investment policy statement to document constraints and expectations
Step 2: Set strategic and active allocation targets based on historical asset class characteristics and current economic and market outlook
Step 3: Identify both active and passive investment vehicles to implement those asset allocation decisions
Step 4: Portfolios are constructed and monitored. Current market conditions dictate the implementation process.
Credit Union Trust's investment process provides the foundation of disciplined portfolio management and diligent portfolio monitoring to work, in conjunction with the investment manager, toward each client's investment objective.
Step 1:  We believe asset allocation is the starting point of any investment plan. Credit Union Trust takes great care in the analysis of the universe of asset classes to build an efficient portfolio
Step 2: We adopt asset allocation targets based on current market opportunities and risk
Step 3: We assess new investment vehicles, seeking to construct portfolios with the best investments for each client
Step 4: Portfolio construction involves matching the appropriate investment vehicle with each asset class to build an efficient portfolio
Step 5: Ongoing portfolio maintenance involves assessing the client's goals and objectives and taking care to ensure that, in our opinion, the current portfolio structure is appropriate in today's market.